September 9, 2014
Candlewick Press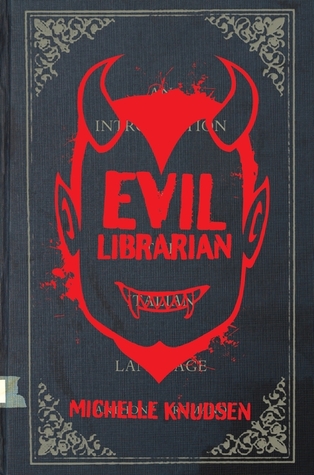 Hardcover, 352 pages
#EvilLibrarian He's young. He's hot. He's also evil. He's . . . the librarian.

When Cynthia Rothschild's best friend, Annie, falls head over heels for the new high-school librarian, Cyn can totally see why. He's really young and super cute and thinks Annie would make an excellent library monitor. But after meeting Mr. Gabriel, Cyn realizes something isn't quite right. Maybe it's the creepy look in the librarian's eyes, or the weird feeling Cyn gets whenever she's around him. Before long Cyn realizes that Mr. Gabriel is, in fact . . . a demon. Now, in addition to saving the school musical from technical disaster and trying not to make a fool of herself with her own hopeless crush, Cyn has to save her best friend from the clutches of the evil librarian, who also seems to be slowly sucking the life force out of the entire student body! From best-selling author Michelle Knudsen, here is the perfect novel for teens who like their horror served up with a bit of romance, plenty of humor, and some pretty hot guys (of both the good and evil variety).
I am so excited for the release of this amazing book and honored to be a part of the blog tour! You must go run and pick this one up- NOW! But first stick around and join me in welcoming the author of this great novel, Michelle Knudsen! I love how music is so influential in so many pieces of writing and I am so happy that I get to share with you Michelle's playlist for this book. So as you are reading this book, here is what Michelle has to say about music and her book, The Evil Librarian!
Today on the blog tour I'm sharing part of my writing playlist for Evil Librarian. I can't usually listen to music while I work on picture books, but for novels, the right music helps me get into the right head space for the story. It also helps me get quickly into writing mode — I start to associate the songs with the book, and so as soon as I slip my headphones on, my brain is ready to get back into the world of the story. This also helps when I'm trying to work out sticky plot points or think more deeply about characters, motivations, etc. I like to think things out while taking long walks, and listening to the book's playlist helps keep me focused. Sometimes a particular song will feel right for a given scene or problem, and then I might just listen to that one song on repeat until I figure out whatever it was that was giving me trouble.

For this particular book, since the main character is somewhat obsessed with musical theater, I also listened to a lot of soundtracks from various shows. Especially Sweeney Todd, which is the show they're putting on for the school's fall musical in the story. A few of the Sweeney songs made it onto the main playlist, but otherwise I mostly kept my musical theater listening separate.

The full list is 88 songs, which I think would be a little too much to post here, so I'm going to go with a 20-song selection.  If you'd like to see the whole thing, I'll post it on my own blog at the end of the tour.

EVIL LIBRARIAN PLAYLIST: A REPRESENTATIVE SAMPLE

"Brand New Day"

—Dr. Horrible's Sing-Along Blog soundtrack

"Anarchy"

—KMFDM

"Villainous Thing"

—Shayfer James

"Vampires Will Never Hurt You"

—My Chemical Romance

"E.T. (Benny Benassi Radio Edit)"

—Katy Perry

"Epiphany"

—Sweeney Todd (Angela Lansbury/Len Cariou Broadway Recording)

 "The Undertaker (Renholder Mix)"

—Puscifer

"Lithium"

—Evanescence

"El Tango de Roxanne"

—Moulin Rouge soundtrack

"Uninvited"

—Alanis Morissette (MTV Unplugged version)

"The Grudge"

—Tool

"As Heaven Is Wide"

—Garbage

 "Into My Blood"

—Carina Round

"Praying for Time"

—George Michael

"City of Delusion"

—Muse

"Dance, Dance"

—Fall Out Boy

"Hurt"

—Johnny Cash cover of the Nine Inch Nails song

"Girl & The Sea"

—The Presets

"Original Sin"

—Meat Loaf

"The Hero's Return"

—Pink Floyd
Thank you so much Michelle for stopping by! There are many more great posts to come from this tour, so make sure to check out the rest of the tour on these great blogs!
WhoRuBlog (9/9/14)
Books 4 Your Kids (9/11/14)
Green Bean Teen Queen (9/12/14)
Elizabeth O. Dulemba (9/13/14)
Katie's Book Blog (9/15/14)
Word Spelunking (9/16/14)
Book Chic Club (9/17/14)
Happy reading!!!